Logo information

Embroidery is a great way to personalise your garments and can last longer than the garment itself so perfect for workwear,Polo Shirts, PPE, schoolwear, sportswear or those special occasions alike!
If we can get a needle through it, we can probably embroider it! the embroidered garments we supply are ideally suited to withstand the embroidery process.
We have a wide range of designs to choose from or if you have text, image or logo it can be converted into embroidery. To do this it will need to be digitized to convert it into a stitch pattern. Once it has been created it will stay on our system permanently so you can keep coming back for more!
We do offer free embroidery up to a certain amount of stitches and after this stitch counts embroidered logos are priced based upon the extra number of stitches in the design, so in general the bigger the area or more complex your logo is the more expensive it could be. Our design set up charges are free for basic designs that are under 8000 stitches, and start form only £15.00 for others.
For more information or a quote please contact us on sales@hivis.co.uk or on 01744 814004

Pantone colour reference chart is click here
Embroidery to the chest of items.
| | | | |
| --- | --- | --- | --- |
| | | | |
| | Under 8000 stitch logo | Under 8000 stitch logo | Under 8000 stitch logo |
Individual persons name for embroidery is priced the same as an under 8000 stitch logo and can be combined with amount of logos.
e.g. 30 polo shirts with logo & persons name can be worked out at the 60 logo rate for the name £1.75 + £1.75 (30 logos and 30 names).
Over 8000
Stitch Logo

Over 8000
Stitch logo
Over 8000
Stitch Logo
Over 8000
Stitch Logo
Over 8000
Stitch Logo

___________________________________________________________________________________________
Printing
We have various print technologies with different qualities and characteristics dependant on the type of logo and what garment it is to go on.We can do screenprinting, digital transfer printing, cad cut vinyl lettering or full colour transfers.

Screen Printing (suitable for qtys of 25 or more only
Screen printing is a printing process in which ink is pushed through a seperate stencil for each colour 1 colour at a time onto a printing surface such as a t-shirts,polo shirts, sweatshirts, golf shirts and other clothing **please note screen printing is not achievable for items such as quilted or padded items, no dye rich items like sublimated garments, that ink would soak through .
This is a mechanical process and is very good for high volumes, there are set up charges for the screens at £20 per screen per colours per size that does not make this very economical under 25 garments but is very economical on larger print runs. This is normally a 7 working day turnaround once artwork had been approved but express services are available. We may use sublimation or digital printing as an alternative to screen printing to meet production deadlines if you need a specific type please let us know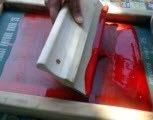 Please note any quotations for under 25 garments will always be quoted as digital prints for cost effectiveness unless you specifically request that you need silk screen printing.
The prices below for under 25 reflect this and are priced each print.
Printing White Garments with digital quality full colour images

Printed Area up to approx 200x 300mm the colour print 'floats' on the white fabric, ideal for personalising clothing, bedding, or bags with digital images such as photographs or full colour logos.
This is ideal for low quantities, such as full colour sponsor logo on a football shirt stag or hen logos etc. For larger quantities, we suggest screen printing if the garment allows. We may use sublimation or screen printing as an alternative to digital printing to meet production deadlines. if you need a specific type please let us know
Removal of printed transfers are charged £2.50+vat per transfer of average size or football number (not all transfers can be removed please call)
______________________________________________________________________________________________
Sublimation Printing to white garments (poly rich)
Polyester rich white garments will produce top quality identical print ing onto the garments exactly as your artwork.Although a little more expensive for the garment it is definitely worth considering if you have many colours.


Full Colour Images on NON WHITE Garments
Printed Area up to A3 size applied as a solid 'patch' – which can be square, round or contoured to your design,. Ideally for digital images such as photo's or multi colour logo's with a solid colour background. We may use screen or digital printing as an alternative to sublimation printing to meet production deadlines.

Solid Colour Text, Shapes and simple outline Logos
Vinyl print technology for a fantastic look & smooth feel, or flock print for a felt feel. This is ideal for garments that have a lot of stretch and need the logo to move with the fabric, such as sportswear. We may use screen or digital printing as an alternative to sublimation printing to meet production deadlines. if you need a specific type please let us know

Ideal for any sized print area but design must be fairly simple and without very fine detail
Artwork Preparation
Our preferred format for most work is an Encapsulated Postscript file or *.eps file, this is the originally created artwork and having this will lower any set-up charges. We can also use J-Peg ( name.jpg ) in sRGB (the norm) sized at 300dpi at final size or pdf and or bitmap..
File size/resolution is important, and you should be aware that small images obtained from the internet will look poor when scaled up to a large printable area, also please get permission for the image license holder, bear in mind that most internet images are subject to copyright and are not usually suitable for print..
You can create a design mock up in any program you have, - but normally we cannot print this artwork and will just use it as a guide as the final print quality is not useable unless created in photshop or dedicated image software.
We may need to charge for creating some types of artwork or modifying yours so we can work from it. We will let you know when you place your order or you can call us with any queries prior to placing any order on 01744 814004.
Designs for embroidery need to be 'digitized'. This turns your image into a stitch pattern that the embroidery machines can recognise, determining colours and location. This is a very specialist piece of work and unfortunately not something a graphic designer can do with Photoshop, but should you have a dst file that the machines can recognise please do not hesitate to supply it to us.Please note that own suplied embroidery designs will be sewn as is and we cannot accept any liability for poor stitch quality
Designs for cut vinyl printing need to be vectorized either by tracing from a j-peg or better still by supplying as Encapsulated Postscript file (eps file) or Adobe Illustrator file (*.ai) without any guidelines etc.
Specific fonts may need to be supplied to match your corporate identity.
PLEASE NOTE - we cannot guarantee pantone matching for every single pantone colour, - although we are usually very close as some types of garment characteristics cause different pantones to react slightly different., - please arrange for a sample if this is critical to you. Also we reserve the right to use a variation of print methods according to the production needs and logo types.