Custom Embroidered Clothing costs
For Custom Logo PRINTED prices click here
all logo costs are plus vat where applicable
Our Personalised Embroidery Dept is based in St Helens Merseyside, we have the most modern computerised embroidery machines available and custom embroider thousands of polo shirts, tee shirts, sweatshirts and jackets every day. We can embroider over 1000 custom shirts per day and with delivery times as fast as same day logo, and with personalised embroidered polo shirts starting as cheap as just 3.95 each we have the service for you. You can even call into our shop at Lea Green St Helens where you can order your embroidery or embroidered clothing and try on any items you wish to have embroidered. You can even bring your own items to have custom embroidery if you live in and around St Helens. Embroidered sweatshirts or hoodies your thing, then just click here.

See our pricing information below for any items you wish to have with a logo where it isn't included in the prices.
We can turn your file or picture into an embroidery design if you supply us a good quality image either on email or hi-quality print out. We dont need any special file format for embroidery as we can trace over good quality images with our design software and If we can get a needle through it, we can probably embroider it ! The garments we supply are ideally suited to compliment the embroidery process.

The maximum size we are able to embroider is 24cm, the average chest size embroidery is approximately 8-10cm. Some garments are unsuitable for embroidery such as very thin woven items, and things such as heavy bags. We do not recommend large shoulder size embroidery to the rear of polo shirts or tees as the embroidery can be too heavy and itch etc, but can be suitable for jacket backs, hoodies and the like.

Most embroideries are done to the left or right chest of garments and sometimes to the rear large, but rear large embroideries depend on the type of garment, is it thick enough to withstand the weight of embroidery, will it feel itchy on the shoulders if worn next to the skin, and it can also very expensive to stitch logos large to the rear as the more stitches in the design equals more time which in turn equals more cost etc etc. If you are thinking of rear logos, print is usually the best option but can be discussed. Caps can be embroidered to the front and sometimes to the rear depending on the design. Please note baseball caps are more expensive to embroider than normal polo shirts or tees or woolly hats due to the machine and processes used to embroider.
For more information or a quote please contact us on sales@hivis.co.uk or on 01744 814004 Pantone colour reference chart is click here

Our embroidered polo shirts have bulk deals running for example, we have offers for 100 polo shirts with custom embroidered logo from only £3.95 each, or personalised sweatshirts from £5.50. Give us a call for the latest deals on our custom logo polo shirts.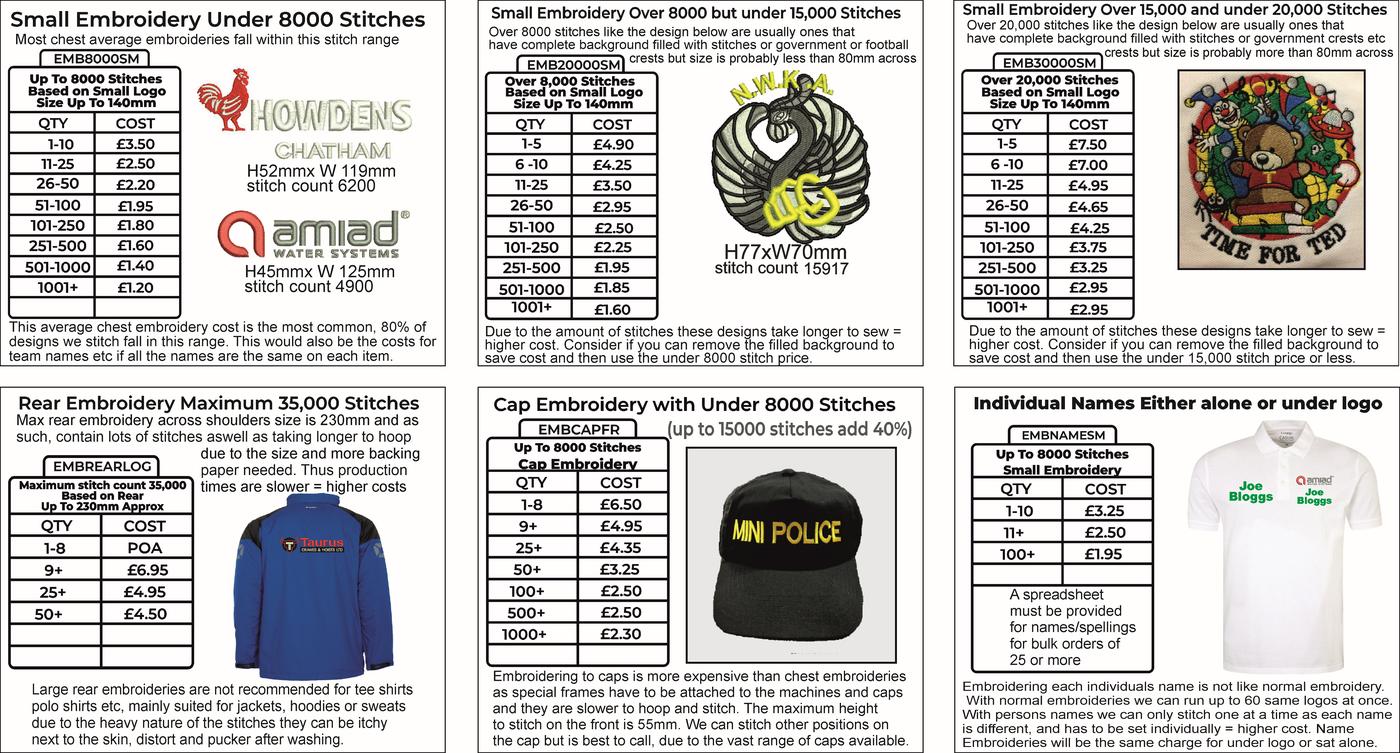 Set up charge ? Yes but free for standard 8000 stitch designs if having over 25 items
Reset up charge ? when returning for more , NO as long as the design is the same

What we need from you to embroider ? (apart from cash
) we need a good quality logo in a .jpg .png .pdf .eps even sometimes word ore excel documents can be traced over if good quality.
Can I have a sample of my embroidery done first ? Sure no problem if your deadline allows. The charges are design set up fee (around £17.50 for standard designs), + the cost of stitcing out just one logo onto a swatch of material, + the postage Total of around £25.00 ish. Should the order be over 25 garments then we can refund the cost of the set up fee when the order is placed.

How long does it take to embroider my tee shirts ? see our fast same day embroidered logo info here
Can I have shading in my embroidered logo ? Yes we can add shading in our custom embroidery and different logos can take on a different look, some look good and some not so good, the cost is apporximately 30% more and is better to call and speak to us if your embroidery requires fading or shading.

Can Pantone standard colours be done with my embroidered logo ? yes we can match most pantone references with embroidery but not all but very close. This is standard in the industry but our operators will match as near as possible by human eye. If in any doubt please order a sample before production.

Will my embroidered logo be perfectly straight on every garment and in the exact same position ? in short, the answer is probably not, the long answer and explaination as to why textiles cant be customised exact each time (even companies like Adidas and nike have the same issues) is explained at the bottom of this page below and also here

What polo shirts do we recommend for embroidery ? we supply all the major brands of polo shirts, such as fruit of the loom, jerzees, Gildan, but we find for price versus quality our uneek range is as good as it gets. You can see our range of uneek embroidered polo shirts & clothing here
PLEASE NOTE - we cannot guarantee Pantone matching for every single Pantone colour, - although we are usually very close as some types of garment characteristics cause different pantones to react slightly different., - please arrange for a sample if this is critical to you. Also we reserve the right to use a variation of print methods according to the production needs and logo types.