FAQ
ALL your questions answered here !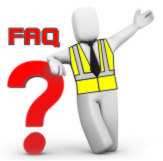 How long does it take to logo my custom clothing
Will I see a sample of my customised clothing first
In most cases Yes! we always send samples of artwork for you to check before we print or embroider your clothing if we feel there may be an issue. We may not send artwork proofs for small orders of 5 or fewer items, in this case, we may use our 25 years of logo experience and determine the best way to customise the items.

We also will not send proofs if our online designer to design your own garments/logos unless our specialists see any errors that may have been made. **Also please note any visual sight of logos are for position reference only and if the size is given in mm on any orders or proofs then this is what size they will be printed (subject to tolerances) regardless of the visual images.
Will my Logo Look exactly the same
We appreciate the value of getting your custom logo brand right every time and we have invested heavily in the most up to date printing and embroidery equipment around to ensure the best most consistent quality and branding of your items.
Printing textiles with custom logos is a dynamic process and by its very nature is not exact, unlike say printing paper or other types of exact sized media which can be printed exactly.
Garments or textiles by the very nature of the manufacturing process are each sized slightly different and things like stripes on hi vis vests may be stitched slightly different on one vest to another vest, or the size differences between a small and an XL sized garment means positioning of prints can be slightly different too. Garments and the printing of items do have a tolerance of around 20-30mm for size or positioning. Any of our artwork proofs we may send you could show your logo position in a certain position on the garment, this is not to be expected exactly as if we were printing paper or other "exact" types of media and a small tolerance of position or size is to be expected as is the industry norm. *please see important information regarding tolerances of logo positions here

Any visual sight of logos are for position reference only and if the size is given in mm on any orders or proofs then this is what size they will be printed (subject to tolerances) regardless of the visual images.

We do however print over half a million items a year and use our 21 years of experience and our ISO9001 2015 quality systems to ensure the best outcome. Our printers and artwork dept when printing custom logos will endeavor to ensure the best outcome and if we notice any glaring errors, rest assured we will get back in touch with you to discuss your order in more depth.
Should you have any other queries please do not hesitate to get in touch.
Can I make amendments to my order ?
Sure as long as your order is not using any of our express logo services, you can make amendments to your order, whether you're having custom logo items or just plain stock, the best thing to do is get your order reference number to hand and call our team on 01744 814004, and as long as it hasn't gone too far through our production process it should be fine.
Our express logo service does not allow for changes as the whole process happens so quickly.
Can I make changes to my order ?
Sure, as long as your order hasn't passed through the process completely we will do our best to accommodate any changes. It is best to call us on 01744 814004 and please find your order reference number to quote to us. This will enable us to track it through our system quicker and make any changes.
My Logo has a white background, can it be removed
Yes certainly with embroidery.
Printing is usually a yes but it depends on the quality and complexity of the logos you send us. If normal designs have a white background our designers may remove it automatically. Our designers have to see it to be 100% sure but as ever, if you state that you need the white background or any of the logo removing when placing your order in the notes box at checkout stage, we will send you a proof and will call you if we have any queries before we logo.
How do I send you my logo
You can send your logo via email to sales@hivis.co.uk. We accept virtually any type of logo and our preferred are below..**PLEASE NOTE, the logo quality you send us will be checked by our team before they do any printing, if it needs improving they will try and do so but not all logos can be altered, rest assured they will contact you should they see any issues before they logo.
Preferred logo formats are in order
.EPS, .PDF, .CDR, .AI, .JPG, .BMP, WORD, EXCEL, Publisher,
**Please ensure a crisp clean image is supplied or the print quality will suffer, basically if it looks good on your screen when as big as will fit on your monitor then usually this is good enough, if you only have it small on your screen, then by the time we increase the size of it, it will deteriorate.
see examples of good ... or not so good artwork here
Do you send sample clothing
We can send sample clothing for you to try for size, which is chargeable at sample rate and credited in full on return. * Please note, some manufacturers charge us a restocking fee for any special order items we have to purchase, we may have to pass this charge on to you should any samples be non-stock items. But we will let you know about this at the point of enquiry.
How can I pay
We accept all major debit and credit cards via our secure servers or telephone (American Express is accepted online via Paypal only).
Bacs payments are accepted as below **please send us a proof of bacs remittance so we can process your order as soon as possible.
You can also post a cheque to our address, but any order will only be processed once the cheque has cleared.
Our Bank address is Royal Bank of Scotland, Ormskirk Street St Helens, WA10 1AY
What about delivery
We offer FREE delivery on all orders over £200 net and varying rates of delivery from, small packets with Royal Mail, or UPS signed for next day courier, please see here for full info.
We also offer express despatch which can be chosen at the checkout stage for when you need your logoed items quickly.
Check how much for delivery by clicking the tab under the products details.
How much are your design set up charges
We offer FREE set up charges for large bulk orders for the first design. If having multiple designs then design charges are reduced pro rata.
Our embroidery design charges are amongst the lowest around, and usually average £15.00-£25.00 but more complex designs can cost more.
Screen printing charges are £15-25 for the first actual silkscreen used and each subsequent screen, will be £15.00 each for each colour in the design.

Design set up charges Start at £25.00 and can range up to hundreds so is best to call if your designs are complex, design alteration charges are as low as £15.00 though we do work with our customers who are ordering goods to offset charges as much as we can.
We will always inform you of any set up charges to be clear and transparent without any "hidden" charges.
Pantone reference numbers
We can print to almost all pantone ref numbers, please let us have them at the time of enquiry. Please be aware that some pantone refs do not print exactly the same on textiles as they do on crisp white paper, but again we will send you electronic samples for you to check. Should you have any concerns please ask us for a pre-production actual sample to be posted to you. (chargeable)
Please remember, all colours can display differently on all monitors, so if in doubt request a sample.
A quick pantone guide or picker is here and is for guidance only.
What about VAT relief
VAT relief for charities info is here
Vat relief for businesses outside of the UK which have an intra community VAT number
VAT relief on Exports outside the EC.
Vat relief to companies within the eu delivered from us

We remove any vat on products that are sent to a business or user that is in any country outside the eu
Vat is calculated to the delivery address on the order and not to the final destination that you may be forwarding to, if this is the case you must make your own arrangements at customs for claiming back the vat at the point of exiting the country.





EU Country vat rules. We can only by law remove the vat from EU businesses if all these conditions are met
the goods are sent out of the UK to somewhere in another EU country
whoever we are sending them to is genuinely registered for VAT in another EU country
you give us your VAT registration number - including the two letter country code (intra community vat number)
* Delivery to countries via export may incur local tax charges of which we have no control, this is solely the responsibility of the addressee to pay these costs.
Exports and Eori Number
For export to some countries you may need a copy of our EORI number and your own EORI or (XI number for Northern Ireland.).
Our EORI Number is GB703960737000
Who needs an EORI
You need an Economic Operators Registration and Identification number (EORI number) if you move goods:
between Great Britain (England, Scotland and Wales) or the Isle of Man and any other country (including the EU)
between Great Britain and Northern Ireland
between Great Britain and the Channel Islands
between Northern Ireland and countries outside the EU
You'll need your EORI number if you:
make customs declarations
use customs systems, such as the Customs Handling of Import and Export Freight (CHIEF) system and the Import Control System Northern Ireland (ICS NI)
apply for a customs decision
Which type of EORI number you need and where you get it from depends on where you're moving goods to and from. You may need more than one.
If you do not have the right EORI number, you may have delays at customs and increased costs, for example your goods may have to be stored until you get an EORI.
Check which EORI number you need
If you're based in the UK you must get an EORI number that starts with GB. If you already have an EORI number and it does not start with GB, you must apply for a GB EORI number.
You may also need an EORI number starting with XI if you move goods to or from Northern Ireland.
If your business will be making certain declarations or getting a customs decision in the EU you may need an EORI number from an EU country. Contact the customs authority in an EU country to get an EU EORI number. You do not need an EORI number from an EU country if you already have an XI EORI number.
NORTHERN IRELAND
If you move goods to or from Northern Ireland
You must have an Economic Operators Registration and Identification number (EORI number) that starts with XI if you:
move goods from Great Britain (England, Scotland and Wales) to Northern Ireland
move goods from Northern Ireland to another non-EU country
make a declaration in Northern Ireland
apply for a customs decision in Northern Ireland
You only need to declare certain goods you move from Northern Ireland to Great Britain. Check if you need to make an export declaration and will need an XI EORI number.
Only people or organisations based in Northern Ireland or the EU can be named as the 'declarant' on import and export declarations made in Northern Ireland.
You do not need an EORI number if you only move goods on the island of Ireland or between an EU country and Northern Ireland.
EORI numbers can be checked on the HMRC website by going here https://ec.europa.eu/taxation_customs/dds2/eos/eori_validation.jsp?Lang=en
Can I supply my own items for logos
Yes of course, you can send in your own items but we advise you to speak to us first to ensure they are suitable for whatever decoration we may add to them. *We do not accept any liability for any items not supplied by us, that may be damaged in the process of adding logos.
Of course, we take great care to make any customer supplied items we decorate return to you in the same quality but mistakes do happen. There are many thousands of items in the garment market all different specs, that we cant guarantee all are suitable for every logo type. The ones we supply have been specially chosen to be suitable for whatever method of printing or embroidery we can apply and we would always recommend using ours to avoid the potential of costly damage to your own items.
If in doubt please call us on 01744 814004
My Parcel has not arrived yet ?
If you used our Courier services you should have received a tracking number, this could help, if not just call us on 01744 814004.
If however if you chose Royal Mail 1st or 2nd class then please see the link below to Royal Mails terms for missing or delayed deliveries.
Do you supply bespoke Uniform contracts
Yes we do, we have been supplying bespoke uniform contracts for major multiples and anyone with higher numbers of staff for over 15 years, see here
Do you have a shop
Yes, we do have a shop where you can come and try garments on for size or collect your pre-ordered goods.
We are open 9 till 5 Mon-Friday and 9 till 1pm Saturday. Door entrance is on right of the image below.


Unit 3 Lea Green Business Park
Eurolink
St Helens
Merseyside
WA9 4TR
01744 814004
Problems ordering online
If you are having problems ordering online just give us a call on 01744 814004 and our friendly staff will guide you through the best way to place your order with us.
If you are having problems using the online designer to make your own custom logo clothing then this video here may also help
Can Embroidery be done on any garment
We can supply most things with embroidery such as embroidered towels, embroidered polo shirts, embroidered sweatshirts, embroidered hats and bags, embroidered hi visibility workwear and most other workwear can also be embroidered. We set and design all the logos in house so have full control over the entire process. *please see important information regarding tolerances of logo positions here
Our saying is that if we can get a needle through it, we can probably embroider it.
Washing my garments
All our garments should only be washed as per the washing instructions on the garment care label if the items have no logos applied.
Do not use the same instructions if logos have been added because the manufacturer would not have considered the logo type.
We recommend no higher temps than 30 degrees for any item with customization. If the garment distorts, stretches or shrinks at 40 or 50, then the embroidery threads we use are up to 90-degree wash we cannot recommend this as it will make the embroidery look puckered as it won't distort the same amount as the garment.
Turn imprinted garments inside out when washing
Do not tumble dry
DO not iron transfers, even with a cool iron
Iron the reverse of the garment when possible
DO not use bleach or harsh chemicals

We cannot replace any items that have shrunk or been damaged in any way by incorrect washing.
We recommend the garment to be washed inside out to enable longevity from abrasion.
Embroidery will generally last longer than any print method, all prints whatever type you use will fade with time and have a maximum longevity with the wash process. So if you feel your garments will need a heavier duty wash than 30 or 40 degrees, then embroidery will be the choice.
I have my embroidery file from my previous supplier, can you use this.
Yes, this will be fine as long as it is an industry standard embroidery format such as DST, EMB etc. Please note your design will be stitched in the same std as your previous embroiderer so if it was poor then, it will more than likely be poor now as the digitising is the same. You may wish to take advantage of our low rates to re digitise the logo to an acceptable std if you were not happy with your previous design.