Embroidery approvals
**IMPORTANT, PLEASE SEE BELOW INFORMATION (BOTTOM OF PAGE) REGARDING EMBROIDERY TO WHITE GARMENTS***
See below the sample artwork you can expect from us to ensure you are happy with your logo BEFORE we embroider or print, we send all new logos *(that have not used our online designer or have ordered 5 or more garments) to customers to approve within 48 hours, please ensure you check your junk folders and give us a call if you dont receive it in 48 hours.
*please see important information regarding tolerances of logo positions here
If you are ordering 10 or more Embroidered Polo shirts, Sweatshirts, Fleeces or Shirts then for a limited time we are offering FREE digitising saving you up to £50 , to turn your logo into and embroidery file if your logo is under 8000 stitches. Most left chest logos are under 8000 stitches but to give you an idea there are some samples below.

A few points that we must make sure of to enable a speedy service.
* Your image is good quality.
* It will be under or around 8000 stitches left chest or sleeve size.
*Your order is placed and paid for either online or via telephone 01744 814004, we then create your file and send it to you for approval, we do not logo anything until you are happy.
*If it is a complex design or more than 8000 stitches there may be an additional charge just call us with any queries.
* Making changes to the original design may delay your order.
See some of our embroidery samples below. We have over 40,000 individual embroidery designs in our database that we have embroidered over the years to polo shirts, sweatshirts, hoodies, fleeces and more so we are sure to have the experience you can trust for us to turn your logo into a professional embroidery design. See our embroidered clothing page for great deals

**PLEASE NOTE** Any print or logo service will have a plus or minus tolerance of 10% in regards postioning of the logo. Garment printing is a somewhat dynamic process and due to different types of fabrics and garments, logos may need to be adjusted to different positions to suit the product they are being applied to.
BELOW IS A SAMPLE OF THE APPROVAL YOU WILL RECEIVE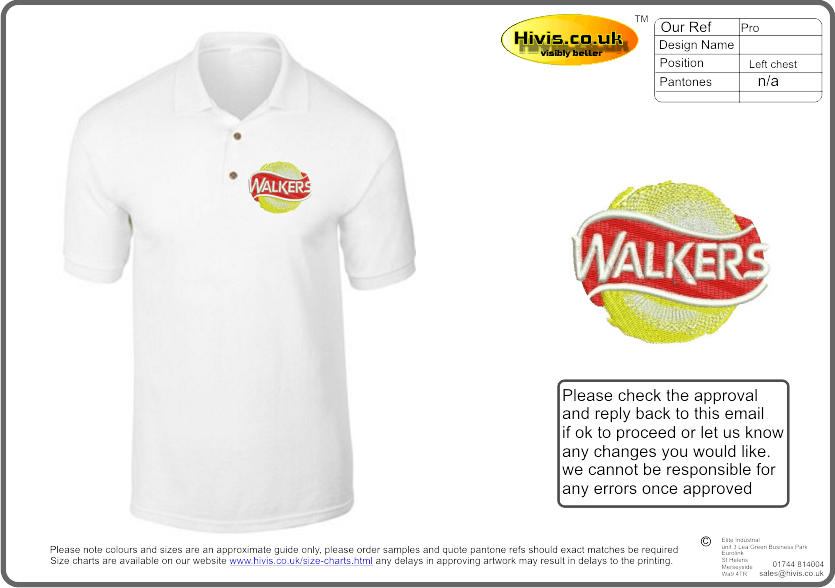 IMPORTANT INFO REGARDING WHITE GARMENTS
To ensure good quality embroidery we here at hivis use the best quality backing paper for our embroidered logos, this means using heavier backing paper which is" CUT" away from the garment, as opposed to us using the cheaper backing paper which is "TORN" away from the garment after stitching. Using tear away paper is done by some embroidery companies but we feel it can distort the embroidery so always recommend to use "CUT" away paper. The Downside to using cut away is that on white garments it can sometimes be seen through the garment as in the image below. We do however feel it is a small price to pay to achieve longevity and quality in embroidery.
It is quite common for the biggest companies to still use cut away, such as Adidas, Nike, and it can be seen even the most prominent people on TV and sports stars etc choose to go this route for the trade off in quality. We will, however, use tear away paper should you prefer and just let us know at embroidery approval stage if it is an issue for you.