Description
Size charts
How to Design
Logo Costs
Reviews
Del Costs
If you require a reflective hi vis bomber jacket that can be custom printed with your logo that accurately reflects your brand, you're certainly in the right place. Our personalised hi vis jackets in yellow are one of our best selling custom printed items. Crafted from 300 denier waterproof fabric, with a concealed hood, a heavy quilted lining, and a heavy duty zip, they are perfect day-to-day workwear. Personalised hi vis jackets are a fantastic way to ensure your employees stay safe and comfortable, whilst also showcasing your company name or logo.
Thanks to our hi vis jacket printing service and advanced technologies, you can position text and images exactly how you would like them on the design. Our personalised hi vis jackets have a maximum print width of approximately 230-240mm and, to ensure the best possible outcome, images need to have a resolution of at least 175dpi. Images downloaded from the web are not suitable and, if you require less than 30 custom hi vis jackets, your image or logo may need to be printed on a white background.
Get to work on customising this popular hi vis bomber jacket today or take a look at our full customer printed hi vis clothing department for alternative styles and designs.
To order vests without printing, click here
** Please make sure your images are large enough to print approx A4 Size**
max print width between shoulders is 230-240mm approx, images downloaded from the web or too small resolution will not print well.
Please note this budget item is subject to change at any time in style due to import availability

Upload your own image using the "Upload file" tab*** please ensure an image resolution of at least 175 dpi**
Images downloaded from the web are not suitable for printing and some images will need to be printed on a white background for quantities of less than 30 items or
if certain colours would clash and be faded by the colour of the vest showing through like greens and blues, thus distorting your brand.
Custom Printed Yellow Bomber Jacket
EN ISO 20471 Class 3 EN343 3:1,
300 Denier Waterproof Fabric, Concealed Hood heavy quilted Lining, Heavy Duty Zip
Studded Storm Flap, 2 Lower Pockets with Flaps ,1 Mobile Pocket internal, suitable for phones / small tablets up to 170x170mm 1 Map Pocket, Anti Wicking Cuffs & Hem, 1 Internal Patch Pocket with Velcro Fastening
Sizes xsm-6Xlge
Small-38", Med-40", Lge-42-44", Xlge-46", XXlge-48", 3Xlge-50", 4Xlge-52-54, 5xlge- 56-58", 6Xlge-60"
Whilst our designers will check your design before printing and they will get in touch if they see any majorr problems, it is important that you upload a good quality image preferaby 200 dpi. Images downloaded from the internet are generally not suitable for good quality printing as these are arond 72 dpi. Sometimes though If the image is poor but can be easily rectified by our designers, we will do this without notifying you.

Should you need exact pantone colours or shades please specify this when placing your order otherwise we print what you send us. Please also bear in mind all monitors can show colours differently so what you see on your pc may not be what our print machines have on our PCs..
IN SHORT, if your order is colour critical and you are unsure, please feel free get in touch with us before ordering to make sure you are happy.
Please see here regards any requirements for printing/proofing
or please see all of our FAQs here
Click here to go to the full logo information page


EMBROIDERY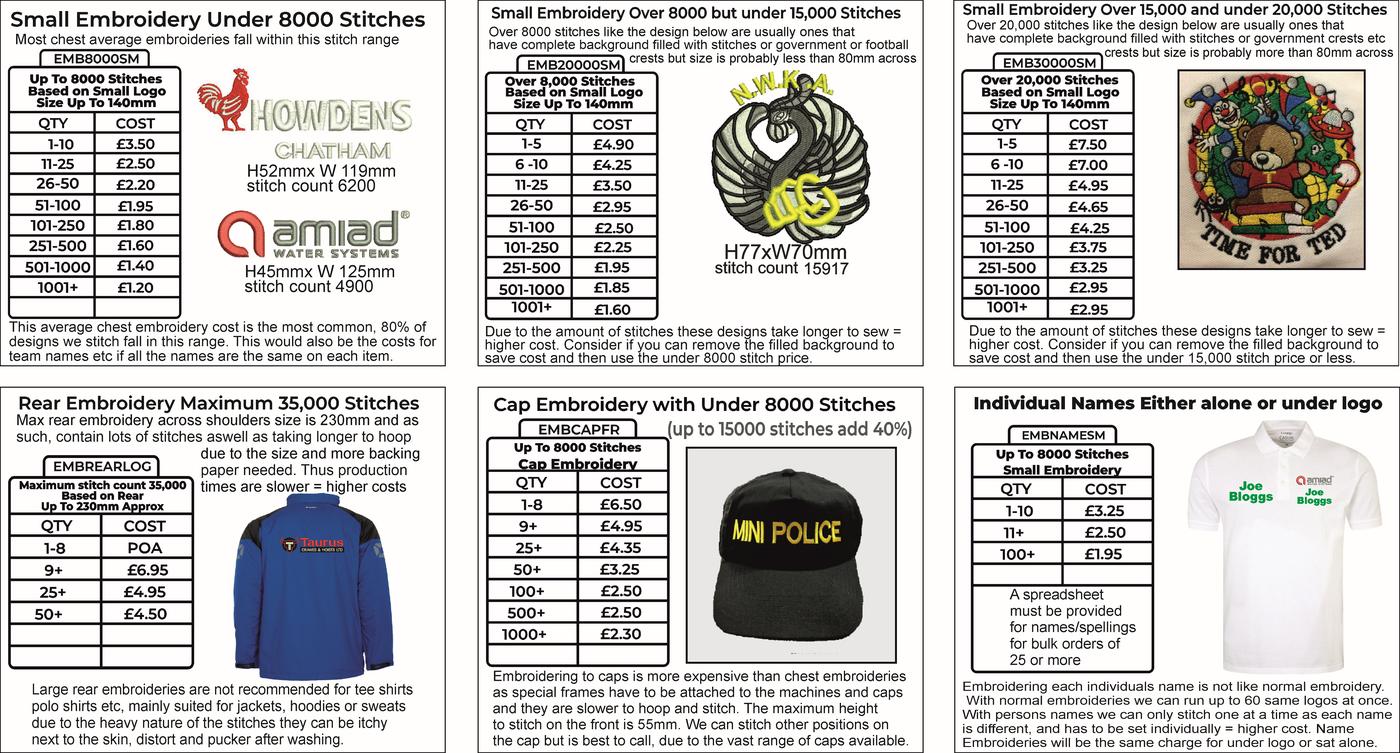 ---------------------------------------------------------------------------
ScreenTrans Printing, (brand new technology)


---------------------------------------------------------------------------
SUBLIMATION PRINTING
---------------------------------------------------------------------------
SCREEN PRINTING