Description
Size charts
How to Design
Logo Costs
Reviews
Del Costs
Here at hivis.co.uk, we provide the Custom Printed Hi Vis Polo Shirt which allows the wearer to be easily and clearly identifiable on site or while working on the railways if using orange RIS-3279-TOM. This not only enhances the safety and visibility of the worker but even allows them to be seen in areas of dim light or darkness thanks to the reflective banding and contrast collar which is part of the design.

Available in either yellow or orange, this Printed Hi Vis Polo Shirt can be customised to include your business branding or logo. This is done using our add text, add art and upload image functions and can be performed in a 24-hour turn around to allow a quick delivery service.

Complaint with EN ISO 20471 Class 2 or RIS-3279-TOM for Orange, our Personalised Hi Vis Polo Shirts can be purchased in several sizes to ensure the product is available for all workers no matter their size requirements.

To find out more information about our Printed Hi Vis Polo Shirts you can contact our experienced, knowledgeable team. They will be happy to answer any queries or questions you have regarding our full collection of products. Get in touch by calling 01744 814004 or by emailing us at hello@hivis.co.uk.
Whilst our designers will check your design before printing and they will get in touch if they see any majorr problems, it is important that you upload a good quality image preferaby 200 dpi. Images downloaded from the internet are generally not suitable for good quality printing as these are arond 72 dpi. Sometimes though If the image is poor but can be easily rectified by our designers, we will do this without notifying you.

Should you need exact pantone colours or shades please specify this when placing your order otherwise we print what you send us. Please also bear in mind all monitors can show colours differently so what you see on your pc may not be what our print machines have on our PCs..
IN SHORT, if your order is colour critical and you are unsure, please feel free get in touch with us before ordering to make sure you are happy.
Please see here regards any requirements for printing/proofing
or please see all of our FAQs here
Click here to go to the full logo information page


EMBROIDERY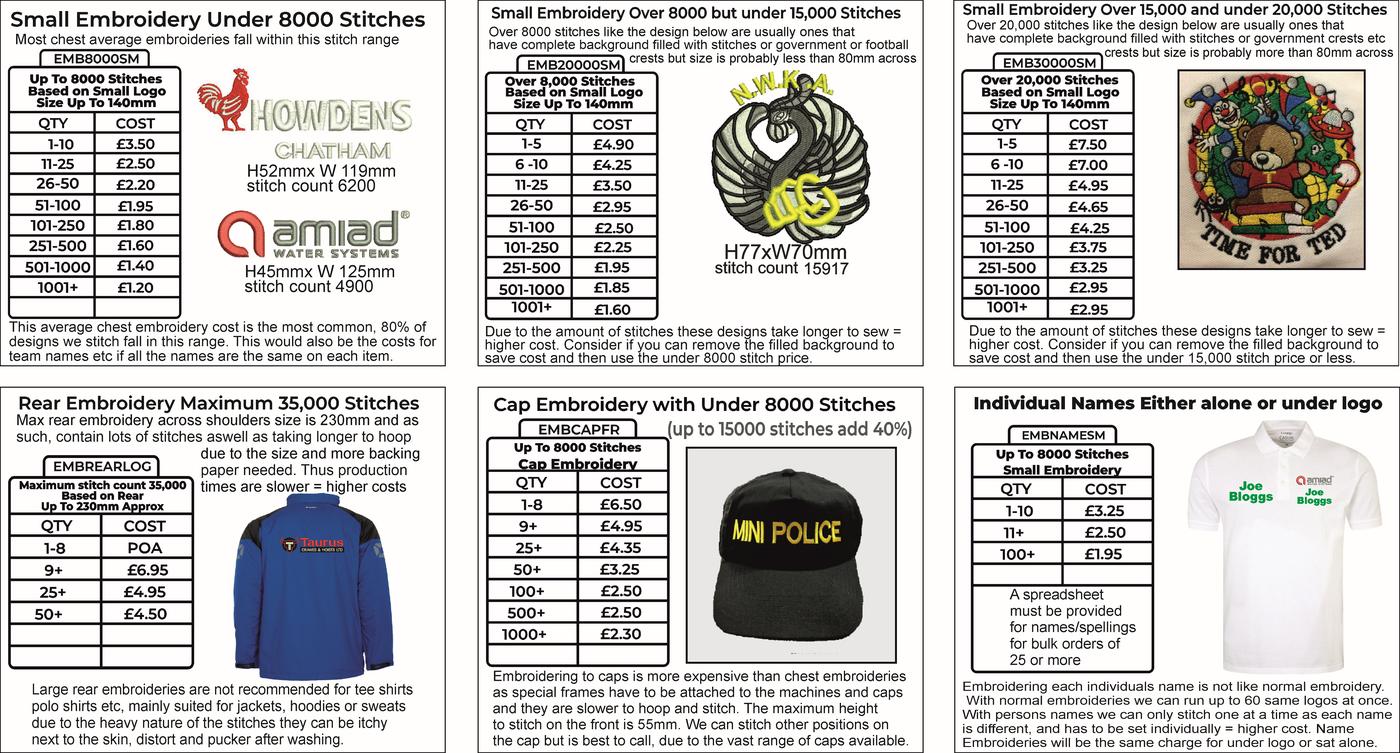 ---------------------------------------------------------------------------
ScreenTrans Printing, (brand new technology)


---------------------------------------------------------------------------
SUBLIMATION PRINTING
---------------------------------------------------------------------------
SCREEN PRINTING