Description
Del Costs ?
Reviews
Documents
How to Design
Logo Costs
Purchase a Personalised Hi Vis Hoodie with the hivis.co.uk custom print online designer. Our customisation tool allows you add your business logo or company branding to your hi vis hoodie and we offer a variety of fonts and text colours for you to choose from.
Ideal for keeping you warm on chilly days or as an extra layer under your coat during the bitter cold winter months, our Custom Hi Vis Hoodie range is perfect for use on site, on the railways or on the roads. They are available in both yellow and orange and each design comes with reflective banding to ensure you are easily seen and identifiable as you work.

This product conforms to EN ISO 20471 certifications and is available with multibuy discounts which increase the more hoodies you purchase. Simply upload your own logo or image using the "Upload Image" tab and we will print your branding onto the hi vis personalised hoodie. This product is available in sizes ranging from small (S) to four times extra-large (4XL).

Our team will print the Personalised Hi Vis Hoodie as you have designed them onsite using our design tools. If you need to mention any specific details about the design then please include them in the design comments section above.
Prices will change when you resize the design, and you will receive quantity discounts which are added total quantity amount is added to your basket.
All monitors and electronically distributed images display colours differently so therefore we cannot be responsible for exact colour matches unless pantone colour refs are provided when you order your goods. if in any doubt we advise you to request to order pre production samples

Product Details:
Unisex Pull Over Hoodie
300 GSM Fleece Fabric
100% Polyester
Reflective Stripes over Shoulders, Arms and around body
Whilst our designers will check your design before printing and they will get in touch if they see any majorr problems, it is important that you upload a good quality image preferaby 200 dpi. Images downloaded from the internet are generally not suitable for good quality printing as these are arond 72 dpi. Sometimes though If the image is poor but can be easily rectified by our designers, we will do this without notifying you.

Should you need exact pantone colours or shades please specify this when placing your order otherwise we print what you send us. Please also bear in mind all monitors can show colours differently so what you see on your pc may not be what our print machines have on our PCs..
IN SHORT, if your order is colour critical and you are unsure, please feel free get in touch with us before ordering to make sure you are happy.
Please see here regards any requirements for printing/proofing
or please see all of our FAQs here
Click here to go to the full logo information page


EMBROIDERY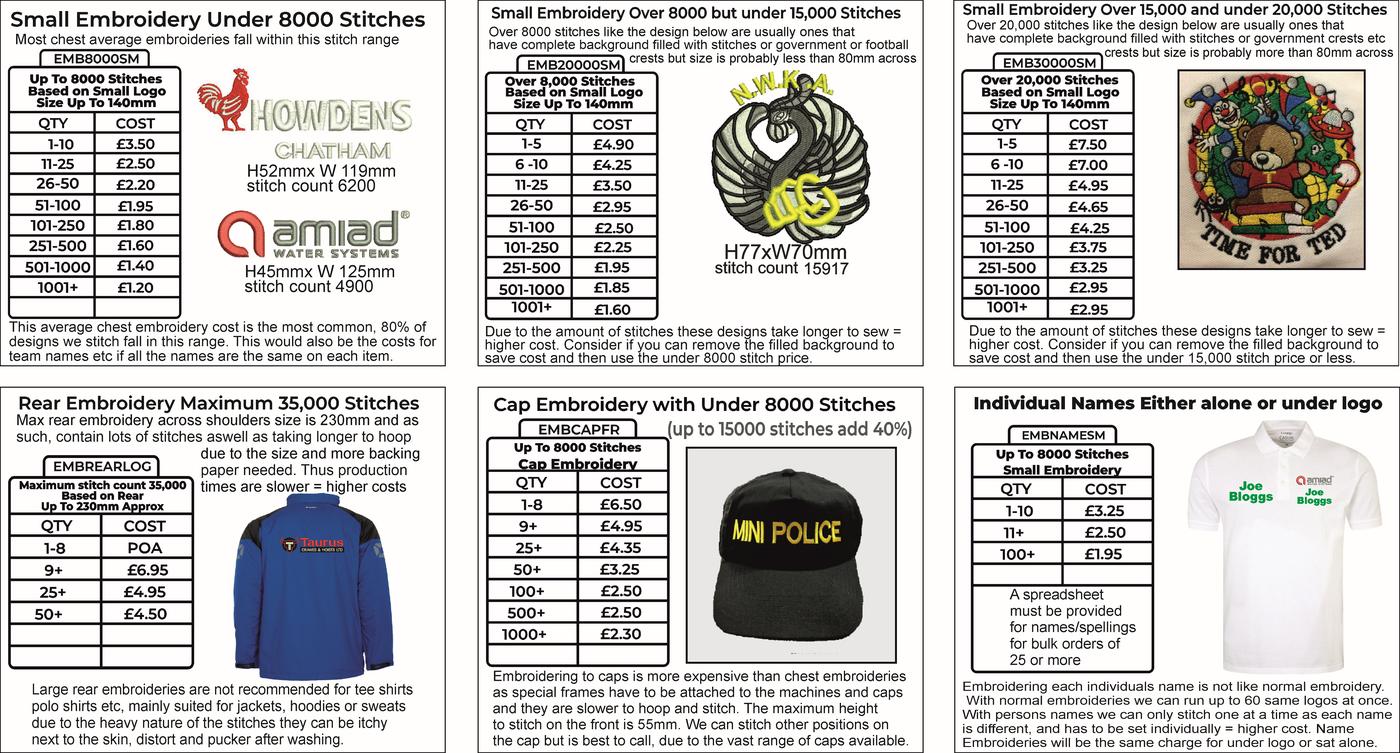 ---------------------------------------------------------------------------
TRANSFER PRINTING


---------------------------------------------------------------------------
SUBLIMATION PRINTING
---------------------------------------------------------------------------
SCREEN PRINTING